Welcome

to Parkhotel Güldene Berge

Welcome

to Parkhotel Güldene Berge

We are pleased

on your visit

Feel comfortable

in our premises
Welcome to Parkhotel Güldene Berge
Parkhotel Güldene Berge in Weißenfels combines all the charm of a palatial villa with the comfort of a four-star hotel, providing families with children, business executives and holidaymakers with a perfect setting for their stay. The lovingly restored villa from 1900 with our modern guest house and the Rose house have 36 stylishly furnished rooms.

Our restaurant serves a delicious range of regional and international specialities. Come and explore the northernmost wine-growing area in Germany and try some of the fine vintages that thrive on the slopes of the Saale and Unstrut rivers. Our conference room is equipped with state-of-the-art technology for your meetings and seminars.

Our hotel is the perfect place from which to embark on a tour of the many sights in the baroque town of Weißenfels and the countless attractions in the Saale-Unstrut region.

We look forward to your visit!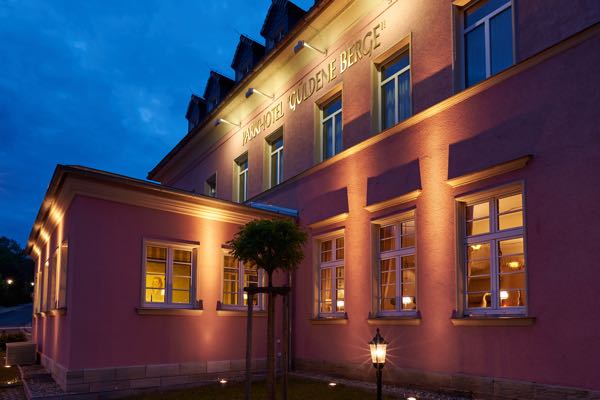 Packages
Genießer-Wochenende
2 ÜN, Frühstück, Cocktail, 4-Gänge-Genießer-Menü, Wein
2 Übernachtungen

Frühstück

4 Gänge-Verwöhnmenü

1 Flasche Saale Unstrut Wein (pro Paar)

1 Begrüßungscocktail
Saale-Unstrut-Wein-Bonbon
Genießen Sie erholsame Tage in der schönen Saale Unstrut Region und lassen sich mal wieder so richtig von uns verwöhnen.
3 Übernachtungen

Frühstück

1 Glas Winzersekt zur Begrüßung

1 x 3 Gänge Genießermenü mit 1 Flasche Wein (pro Paar)

1 x 4 Gänge Verwöhnmenü mit 1 Flasche Wein (pro Paar)
Saale-Unstrut überrascht!
Zwischen Meisterwerken der Romanik, idyllischen Flusstälern und sensationellen archäologischen Fundstätten lässt sich manches Abenteuer erleben. Gehen Sie auf Entdeckungsreise und lassen Sie sich von der Schönheit der Region verzaubern.
5 Übernachtungen

Frühstück

2 x 3-Gänge Genießermenü

1 x 4-Gänge Verwöhnmenü

1 x Weinbegleitung zum 4-Gänge-Menü

1 Glas Winzersekt zur Begrüßung

1 geführte Stadtführung